Hi friends! Sorry for not updating my blog as I am quite busy these days.

May is coming soon, I think some of you may looking forward for the public holidays in May, which is Labour day and Wesak.

Here, I would like to share with you the information about a grand ceremony organised by Tzu Chi, "Mass Wesak for Collective Blessings "

Quote:

慈濟四十二週年慶,分佈全球慈濟分支聯絡點將就地舉辦浴佛活動,同步慶祝母親節、佛誕節及全球慈濟日。暨此殊勝因緣,吉隆坡分會將於武吉加裏爾舉辦萬人浴佛聚福緣~系列慶典活動。
The 42nd Anniversary of Tzu Chi Foundation will be globally celebrated in a grand ceremony of "Bathing The Buddha" to mark the three said occasions. Tzu Chi KL will celebrate the occasion with a "Mass Vesak for Collective Blessings" ceremony, to be held at the Bukit Jalil Stadium.
日期Date:11-5-2008
時間Time:9.00am---3.00pm
地點Venue:Bukit Jalil Car Park A
當日現場備有免費健康素食招待、慈濟志業展、親子區、健檢區等活動合適民衆扶老攜幼前來參與,歡度家庭日之外亦能傳達孝親之意。慈濟誠邀社會大眾前來共襄盛舉。
Healthy vegetarian foods will be served free; various organized activities as exhibitions, parent-child interactivities and health screen are in store for all.
Tzu Chi Foundation KL cordially invites the public to celebrate with us on this auspicious occasion. We would be deeply grateful for your kind presence.
台灣佛教慈濟基金會吉隆坡分會 敬邀
Taiwan Buddhist Tzu Chi Foundation(Kuala Lumpur Branch)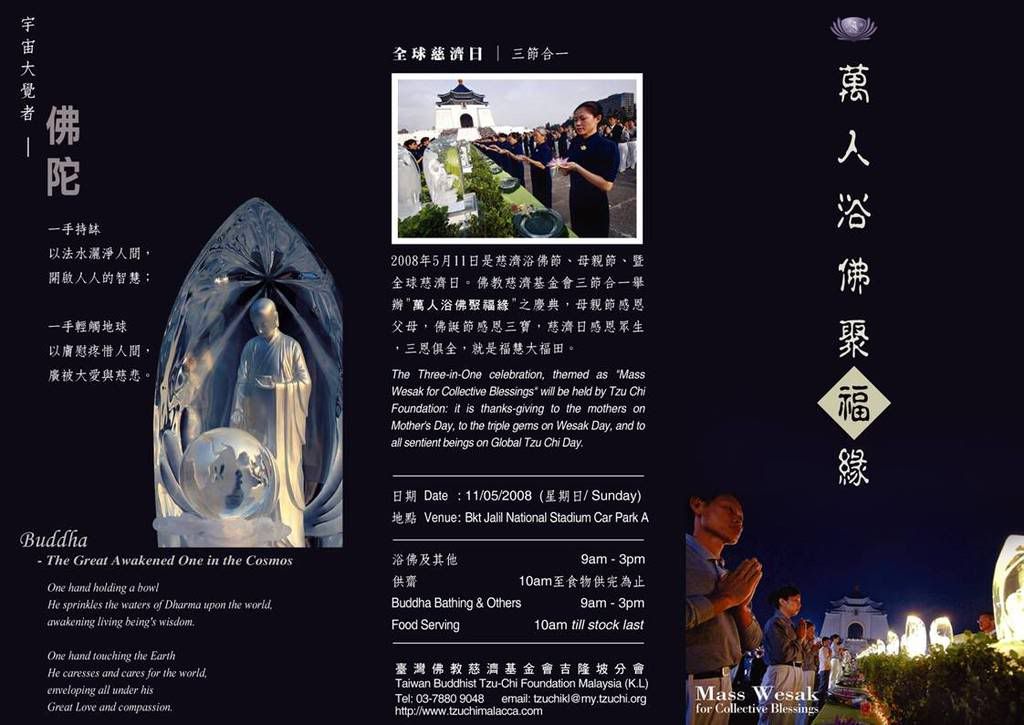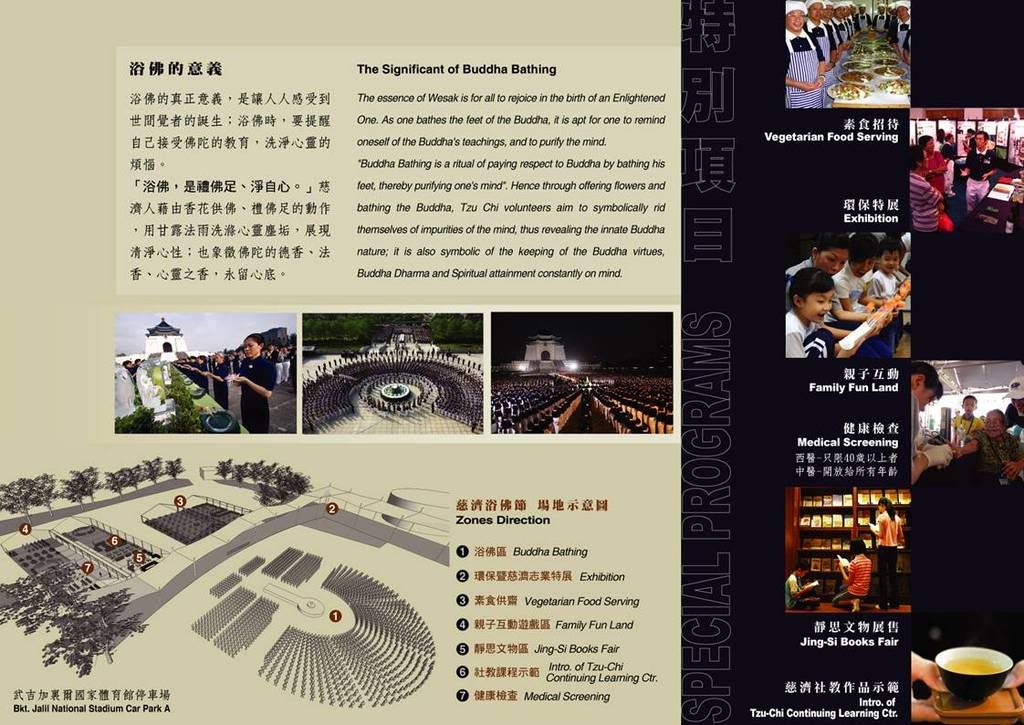 Unqoute.
Let's join this grand event and celebrating Wesak day together with the brothers and sisters in the dharma :)